Monoceros for Grasshopper – online workshop – THE FIRST ULTIMATE TUTORIAL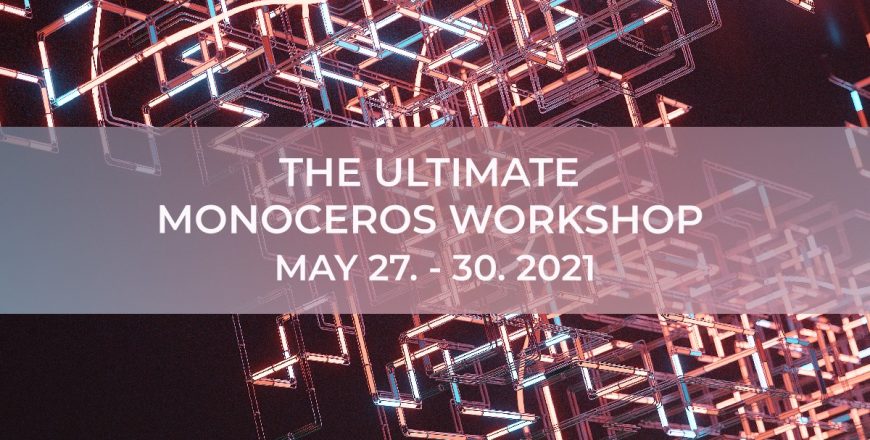 In 4 days of lectures and hands-on exercises, you will be introduced to the wider architectural context, explained the basics, guided through real-life examples and revealed advanced concepts of a controlled discrete assembly.
THE FIRST COMPLETE WORKSHOP ON MONOCEROS BY ITS MAKERS FROM Subdigital
More info & registration ???? https://workshop.arxace.com
A week after the main workshop you can discuss and troubleshoot your individual Monoceros project with the workshop tutors. In another week you will present your personal project in front of a renowned jury and receive a signed certificate. The entirely online workshop will take place in the virtual environment of Gather townand will consists of lectures, tutorials, demonstrations, individual consulting, exhibitions, networking and parties.
WORKSHOP OVERVIEW:
Level:
intermediate & advanced grasshopper users
beginners may apply too
Duration:
30+ hours workshop
after hours support
13 hours of free bonus tutorials
Certificate & awards: final presentation
Main tutor: Ján Pernecký | Subdigital
Language: English
Online platform: Virtual venue in GatherTown designed in Monoceros
Software: Rhinoceros 6 or 7 for Windows
SCHEDULE:
27TH – 30TH MAY 2021 – MONOCEROS WORKSHOP
3pm to 4pm CEST/UTC+2 – optional catch-up session
4pm to 6pm CEST/UTC+2 – theory
6pm to 9pm CEST/UTC+2 – hands-on
4TH JUNE 2021 – DESK CRITS
4pm to 8pm CEST/UTC+2 – optional individual troubleshooting sessions
11TH JUNE 2021 – FINALS
4pm to 6pm CEST/UTC+2 – 5+5 minutes each project
WHAT IS MONOCEROS?
Monoceros is a legendary animal living in the huge mountains in the interior of India. Monoceros has the body of a horse, the head of a stag, the feet of an elephant and the tail of a boar.
Monoceros is also a suite of tools for optimally occupying an Envelope with discrete Modules, where the spatial relationship between those Modules can be constrained by a set of user-defined Rules. By using the Wave Function Collapse algorithm, it provides an innovative and fast solution to the emerging architectural problem of Discrete aggregation for purposes of design, architecture and urban planning. Monoceros is a plug-in for Rhino / Grasshopper created at studio Subdigital by Ján Tóth and Ján Pernecký, and is available to download for free.
Monoceros implements WFC in a way natural to Grasshopper and democratizes its use across all groups of computational designers – from beginners to experienced Grasshopper users. It delivers results with minimum effort and at the same time allows for control beyond any other discrete assembly approach.
1
Monoceros Online Workshop
3
Essentials: Lists and Conditions_01
4
Essentials: Lists and Conditions_02
5
Essentials: Vectors and Domains
6
Essentials: Bits and Pieces
8
MONOCEROS WORKSHOP – Welcome drinks
9
MONOCEROS WORKSHOP – Day 01 – Lecture 01
Be the first to add a review.
Please,
login
to leave a review