COMPLETE BUNDLE: URBAN OPTIMIZATION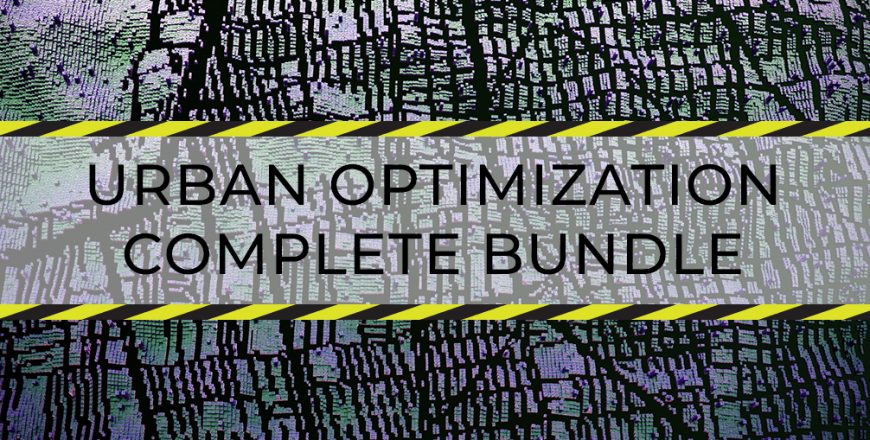 Urban Optimization Complete Bundle
with Adrian Krężlik | Parametric Support
recordings of live webinars with Adrian Krężlik | Parametric Support
duration: 5 x 2 hours
Software used: Rhinoceros, Grasshopper, Galapagos, Silvereye, Octopus, Lunchbox, MeshEdit, Elk, Shortest Walk, Opossum, Colibri, Anemone, MeerkatGIS, LeafCutter. These tutorials are suited for intermediate users.
PATTERN LANGUAGE AND TRANSIT ORIENTED DEVELOPMENT
We will learn differences between single- and multi-objective optimization, how to define a boolean and a penalty function. By the means of single- and multi-objective optimization we will:
optimize markets distribution and accessibility to them in Mexico City
enhance the public transport system by implementing a new metro line
OPTIMIZING ACCESSIBILITY
On an example of Warsaw, the capital city of Poland, we will analyze and optimize:
possible position(s) of a new pedestrian connection bridging two sides of the river
enhance the local and global accessibility of the city network
compare Brute Force and optimization strategy
OPTIMIZING URBAN PLANNING AND LANDSCAPE DESIGN
Throughout the webinar the following topics will be addressed:
minimization of walk cost on a landscape
multi-objective optimization for planning a complex of villas to – enhance the views, privacy and divide the land equally
minimize the earthworks for a new investment
distribution, accessibility and continuity of urban greenery system
MAPS AND DATA MANAGEMENT
There is a vast amount of data regarding the cities, there are different formats of data and there are organized often in a very unclear way. Where to find the data? How to handle them and clean? How to build a 3D model from Open Street Maps. This webinar aims to show how to retrieve data from existing databases and how manage them to inform the design process. We will see how to visualize data and export them to other formats.
ANALYZING AND ENHANCING URBAN ENVIRONMENT
The webinar introduces to concepts of urban performance – both qualitative and quantitative. Through a series of exercises we will analyze and evaluate performance of an urban structure. The workshop will explore ideas and concepts defined in Space Syntax and Environmental Performance of a city such us Outdoor Comfort or Sun Accessibility.
1
Urban: Pattern Language and Transit Oriented Development
Be the first to add a review.
Please,
login
to leave a review